You are currently browsing the category archive for the 'Events & Trainings' category.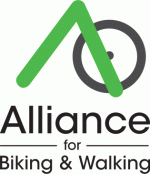 Wednesday, September 25, 2013
2:00 PM to 3:00 PM eastern
Register online here
Cross-sector coalitions are powerful tools when working to pass and implement a state or local Complete Streets policy. By building partnerships with transit advocates, health stakeholders, economic development groups, environmental organizations and more, biking and walking advocates can multiply impact and ensure a great policy to build safe, accessible streets for all.
Join this call to hear from national and local advocates with hands-on experience building winning coalitions for Complete Streets.
Panelists will include:
Stefanie Seskin, Deputy Director, National Complete Streets Coalition
Zia Brucaya, Indiana Complete Streets Coalition Coordinator, Indiana Complete Streets Campaign
Complete Streets supporters in Southeast Oakland County have made significant advances in recent months, including the formal adoption of the Royal Oak Non-motorized Transportation Plan, a Complete Streets resolution for Oakland County, and most recently, the adoption of Complete Streets Guidelines by the Road Commission for Oakland County.
On December 12th, a community meeting is being organized by local bicycle advocates to discuss the the implementation of bicycle infrastructure such as marked bicycle routes, sharrows, bicycle boulevards, and road diets. A desired outcome of the meeting is to develop a strategy for a multi-city push for Complete Streets implementation that links the various Oakland County communities together with a safe and convenient bicycle and pedestrian network.
Meeting Details:
Wednesday, December 12th, 2012 (12/12/12)
7:00 pm
Royal Oak Public Library, 222 East 11 Mile Road, downtown Royal Oak
Residents and people who walk and bike through Berkley, Birmingham, Clawson, Ferndale, Huntington Woods, Oak Park, Royal Oak and Southfield are welcome and encouraged to attend. There is no need to register - just show up.
The meeting will also include three guest speakers:
Todd Scott, Detroit Greenways coordinator for the Michigan Trails and Greenways Alliance. Mr. Scott has helped bring millions of dollars of grant funds into the Detroit area to fund bicycle infrastructure and is a nationally-known expert on mapping bicycle routes.
Heather Carmona, Executive Director of the Woodward Avenue Action Association. Ms. Carmona was key in winning federal funding for the recent improvements to the Woodward-12 Mile intersection, is currently leading an 11-city effort to make Woodward Avenue a Complete Street from Detroit to Pontiac, and is helping to organize a Gran Fondo bicycle ride planned for next year.
Tom Dusky, Green Cruise coordinator for the Southeast Michigan Sierra Club. The Green Cruise is a celebration of non-motorized transportation held annually in Ferndale.
The meeting is sponsored by the Royal Oak Environmental Advisory Board, Huntington Woods Environmental Committee, Berkley Environmental Advisory Committee, Woodward Avenue Action Association, and the Michigan Trails and Greenways Alliance.
For more information, contact:
Tom Regan - 248-797-1075
Stand up for Complete Streets and the preservation of non-motorized funding at the 2012 Lucinda Means Bicycle Advocacy Day on May 23rd.
Bicyclists and Complete Streets supporters will meet with members of the Michigan Legislator on May 23rd at the State Capitol to advance legislative priorities aimed to make Michigan a more bicycle-friendly state. The event will be hosted by the League of Michigan Bicyclists, Michigan Trails and Greenways Alliance and Michigan Mountain Biking Association. All non-motorized transportation advocates are encouraged to participate.
Their Advocacy Agenda (PDF) includes a number of items such as establishing vulnerable roadway user designations for bicyclists, pedestrians and wheelchair users to create enhanced penalties for drivers who injure or kill a vulnerable roadway user.  Advancing bikes-on-trains is another top priority.  Roll-on bike service would allow cyclists to take bicycles on-board Michigan Amtrak trains, making multi-modal travel easier in Michigan. This would extend Complete Streets principles of connectivity further than a communities geographic boundaries by linking local bicycle networks and passenger rail service.
Also included in the Advocacy Day agenda are a few bills that are raising the eyebrows of Complete Streets advocates across the state.  SB 921 (Ouiment) and HB 5304 (Jansen) were both recently introduced as part of Governor Snyder's transportation funding reform proposals. Language in these bills, needlessly eliminates the Michigan Complete Streets Advisory Council (MCSAC).  The Council, comprised of representatives from 18 statewide government and non-government stakeholder agencies, was created as a result of Public Act 135 of 2010. It is charged with providing education and advice to the State Transportation Commission (STC), county road commissions, municipalities, interest groups, and the public on the development, implementation, and coordination of Complete Streets policies.
To date, the MCSAC has focused its efforts solely on drafting recommendations for the STC regarding the statewide policy for MDOT. As a result, little guidance has been provided to local units of government across the state.
While Michigan leads the nation with the most adopted Complete Streets ordinances and resolutions (over 70 in total), many communities are still hesitant to advance Complete Streets until the MCSAC provides further recommendations. The MCSAC provides valuable oversight and guidance for the effective implementation of Complete Streets throughout the state. Dissolving the MCSAC will create an unfortunate void for communities seeking to make their roads and streets safer for all users. The collective expertise of MCSAC should continue to be utilized as MDOT and local communities work to implement the finalized policy.
Another bill of concern is HB 5303, which removes a funding requirement from Act 51 that obligates communities and road agencies to spend a minimum of 1% of their transportation funding on essential non-motorized transportation projects.
Worse yet, HB 5303 includes provisions that reward funding to road agencies based on the number of Vehicle Miles Traveled (VMT) under their jurisdiction. This creates disincentives for investments in alternative transportation options such public transit systems and bicycle networks.
The bill penalizes communities and road agencies for making systemic improvements like "road diets," a popular technique that reduces the number of travel lanes on roads designed to carry more vehicle traffic than they do in reality. A common "road diet" improvement converts four-lane roads that have lower traffic volumes into two-lane roads that also include center turn lanes and additional safety features such as bike lanes, creating new transportation options without causing additional congestion.
You can learn more about these issues and register for the 2012 Lucinda Means Bicycle Advocacy Day at www.LMB.org/advocacyday.
The Complete Streets Advisory Council will meet at 2 p.m., Thursday, April 26, at the Capitol Commons Center, 400 S. Pine St., in Lansing. The meeting is open to the public.
The 18-member council was appointed in accordance with Public Act 135 of 2010. The group's role, according to law, is to advise the State Transportation Commission, county road commissions and municipalities on Complete Streets policies. The law also requires the State Transportation Commission to enact a Complete Streets policy by August 2012. A "complete street" refers to a roadway that provides appropriate access to all legal users, including motorists, bicyclists, pedestrians and those traveling by assistive devices, such as wheelchairs.
If you need special assistance to attend the meeting, contact Dorothy Thompson at 517-241-4890. The public also can submit comments prior to the meeting via e-mail to [email protected].
Complete Streets Advisory Council members represent road and transit agencies, state agencies, walking and biking organizations, and environmental, senior citizens and disabled persons groups. More information is available online at: www.michigan.gov/completestreets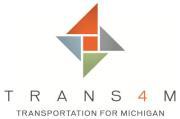 Join Trans4M for an exciting day in Lansing meeting with our legislators!
Thursday, February 23, 9am-4pm
Transportation for Michigan (Trans4M) members and supporters will meet with legislators to educate them on the Regional Transit Authority (RTA) and other Trans4M priorities.  Legislative background and talking points will be provided.  The agenda includes:
9:00 am – Sign in, welcome briefing and plan for the day
10:00 am - Meetings with House members (pre-scheduled meetings or drop-by visits)

Senate will be in session (you can also ask to talk to your Senator off the floor)

12 noon - Lunch with legislators - Lunch provided
1:00 pm - Meetings with Senators (pre-scheduled meetings or drop-by visits)

House will be in session (you can ask to talk with your Rep off the floor)

3:00 pm - Brief wrap up meeting and reporting back
Specific locations at the capitol to be announced soon.
Three important things to do before attending:
Make sure to RSVP at www.tinyurl.com/Trans4Mday so we know how many to expect and can coordinate legislative meetings.
Make sure to note whether you want to ride on the bus from Southeast Michigan or whether you'd like to carpool.
Work with other advocates from your area to schedule meetings with your legislators for while you're in Lansing.  (Contact

[email protected]

 for a sample meeting request letter.)
Join us for a preview conference call to learn more about the issues and prepare. This call is scheduled for Tuesday, Feb 21 from 6-7pm at 605-475-4850, code 636655#.
For more information, contact Allie or Tim at 517-487-9539.
Trans4M is a statewide coalition working to make Michigan communities more livable and our economy more robust through transportation policy reform. We envision a connected, convenient system linking more frequent, reliable and affordable passenger rail and public transit, as well as active transportation and complete streets. www.Trans4M.org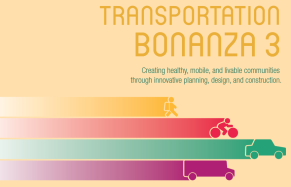 The Michigan Association of Planning, in partnership with the Michigan Safe Routes to School (SR2S) Program, the Michigan Department of Transportation (MDOT), the Michigan Department of Community Health (MDCH), and the Michigan Municipal League (MML), is launching its 3rd annual Transportation Bonanza!  This event was designed to bring together professionals from the fields of planning, education, transportation, health, engineering, natural resource and environmental protection, architecture, landscape architecture, and others to align around the topic of community building for health and accessibility.
We think that this year's focus on the crossroads of schools and communities might appeal to your membership, constituents, partners, and/or staff. Transportation Bonanza 3 will deliver national and state experts to explore school facilities planning, how to implement Safe Routes to School successfully, collaborations between school districts and communities, public policies that impact the education system, and more.
Through valuable partnerships, the Transportation Bonanza series has continued to evolve from general transportation topics in its inaugural year to this year's conference focusing on understanding the relationships between schools, community, and transportation; Safe Route to School; and Complete Streets. The benefits of attending are many and
include:
Learning about the intricacies and interconnectedness of communities, public health, schools, and transportation
Being better equipped to work with colleagues across multiple disciplines
The registration price is a good value for the information provided
Networking with colleagues across multiple disciplines
Just as the road networks we use to transport ourselves and our goods across multiple jurisdictions and cut through a variety of landscapes, so too do transportation planners, engineers, and advocates work with and through a variety of disciplines to enhance and improve our road systems. While each session is designed to relate to transportation in a unique way, from the relationship to schools to local government funding, there is an entire track dedicated to Context Sensitive Solutions and Complete Streets.
Date: February 16, 2012
Location: Lansing Center, Lansing
8:00 AM to 5:15 PM
Program: A full day of national experts and local perspectives, includes lunch, instruction, and refreshments.
Registration: $49 and online at http://planningmi.org/tb.asp
UPDATE: @WalkBikeRollMI We're excited about the webinar, but it's unfortunately not open to general public. Looking into ways to offer it more widely.
December 1, 2011, 2:00 p.m. Eastern
A common concern in transportation agencies is that implementing Complete Streets policies will cost too much. This in-depth, hour and a half long webinar will provide several strategies for responding to this concern, including examples and resources from communities that have overcome this issue. The webinar will provide Communities Putting Prevention to Work (CPPW) teams with information both about the low cost of many complete streets treatments, as well as ways to talk to transportation professionals about the added value and community support that result from complete streets implementation.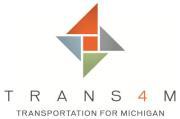 A two-day Odyssey on public transportation will start at Detroit Metropolitan Airport Saturday morning and conclude at a Monday meeting in Traverse City, Michigan: The Logistics Hub of the Midwest from 11:30 to 5:00 at the Grand Traverse Resort.
Along the way, members of the Transportation for Michigan (Trans4M) coalition and others will meet with lawmakers, local officials and citizens interested in improving the reliability and convenience of public transportation throughout Michigan.
"We want to draw attention to the strengths, weaknesses and opportunities in Michigan's statewide passenger train and bus-transit systems," said Tim Fischer, deputy policy director with the Michigan Environmental Council and a Trans4M member.
"It isn't that someone can't use public transportation to get from one end of the state to the other; it's that it's extremely difficult.  A simple trip of a few hours becomes a two-day odyssey.  There are too many unnecessary roadblocks placed in the way of streamlined public transit viability," said Clark Harder, Executive Director of the statewide Michigan Public Transit Association, which represents bus, light rail and water ferry operators in Michigan.
Below is a tentative itinerary.
Saturday, Oct 1:
Depart DTW airport at 8:25 am on SMART bus #125 for downtown Detroit
Arrive at Larned & Woodward at 9:45 am
Depart Larned & Woodward at 10:00 am or 10:11 am on DDOT bus #53 for the Detroit Amtrak Station
Arrive at Detroit Amtrak Station by about 10:40 am
Depart Detroit Amtrak Station at 11:23 am on Wolverine train #353 for Jackson Train Station
Arrive at Jackson Train Station at 1:10 pm
Meet with elected officials, others
Depart Jackson Baymont Inn and Suites on Michigan Flyer motor coach #8017 at 4:30 pm for East Lansing
Arrive in East Lansing at 5:10 pm at the University Place Marriot
Meet with elected officials, others
Sunday, Oct. 2:
Depart East Lansing at 11:00 am or 11:20 am on CATA bus #1 for Lansing Transit Center
Arrive at Lansing Transit Center by 11:40 am
Meet with elected officials, others
Depart Lansing at 12:30 pm on Greyhound for Kalamazoo
Arrive in Kalamazoo at 2:15 pm
Meet with officials
Depart Kalamazoo at 3:00 pm on Indian Trails motor coach #0082 for Grand Rapids
Arrive in Grand Rapids at 4:00 pm
Meet with officials
Depart Grand Rapids at 4:50 pm on Indian Trails motor coach #0080 for Traverse City
Arrive in Traverse City at 8:25 pm
Monday, Oct. 3:
Michigan: The Logistics Hub of the Midwest 10:30 am - 5:00 pm at the Grand Traverse Resort http://www.tcchamber.org/civicrm/event/info?reset=1&id=10254
More Transit Odyssey details at: http://www.facebook.com/event.php?eid=224812890908475&notif_t=event_photo_change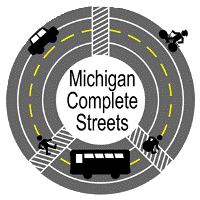 The last installment of the Complete Streets Institute lunchtime webinar series is scheduled for tomorrow, Wednesday September 28th at noon.  Michigan Complete Streets Coalition partners, Norm Cox of the Greenway Collaborative, Inc. and Brad Strader, LSL Planning will be presenting Module 5 – Design and Applications.  The free webinar will look at current best practices, including a number of new approaches.
Complete Streets Institute: Module 5 - Design & Application
Wednesday September 28, 2011 from 12:00 PM to 1:30 PM
This is the fifth of a five-part webinar series on Complete Streets brought to you by the Michigan Department of Community Health. This module will provide an understanding of multi-modal users as well as the key principles that should be addressed in designing Complete Streets. The webinar will also show how Complete Streets elements may be integrated for travel along and across the roadway through numerous special cases. Presenters are Norman Cox of The Greenway Collaborative and Brad Strader, LSL Planning. Please click here to register for Module 5 Webinar.
Links to the previous presentations can be found here.
By Andrea Palmer, AARP-MI
In recent AARP research, nearly 90% of the 45+ population indicated they would like to stay in their community for as long as possible and that it is important for them to remain near their family and friends, and be able to access services they need.
Livable Communities are places where people of all ages and abilities have, among other things, a range of travel choices to get safely where they need and want to go.  These choices – walking, biking, driving and public transportation – help people stay connected and healthy.  In a truly livable community, streets are built for people, not for cars, and downtowns are built for lingering and enjoyment, not for vehicle thru-put and getting commuters home faster after work.
You are invited to join AARP-MI and Dan Burden, Executive Director, Walkable and Livable Communities Institute, for an Active Living Workshop on Tuesday, September 27, 2011 from 8:30am – 2:30pm at Greater Grace Temple Banquet Center, 23500 Seven Mile, Detroit, MI 48219.
The goal of this workshop is to bring community leaders, elected officials and government staff together to engage in making their streets and neighborhoods more walkable and livable. The workshop will also illustrate through examples and audits how walkablility and livability benefit a community and how they can be achieved. Each participant will be inspired to become involved in the movement of active living. The workshop will focus on building healthy communities by applying the principles of active transportation, smart growth and complete streets.
If you would like to register for or learn more about the workshop, please contact Andrea Palmer at [email protected] or 1-866-227-7448.  Responses are needed by September 23, 2011.
We hope that you or your representative will participate with AARP in this important community workshop.