By Kathryn Gray, Public Policy Specialist - Disability Network/Lakeshore, Lakeshore Friends of Transit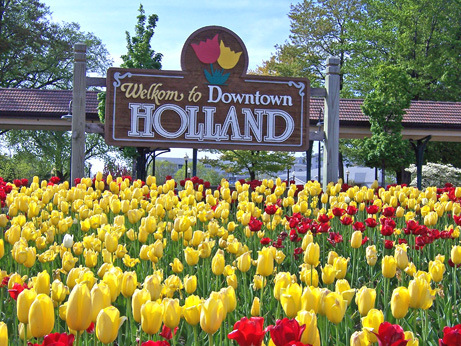 Complete Streets advocates hit another milestone last night!
I am excited to announce that the City of Holland unanimously passed a Complete Streets Resolution at their regular City Council session last night.  The City of Holland is the second in the Disability Network/Lakeshore's service area (Allegan + Ottawa counties) to have passed a Complete Streets resolution – the City of Allegan passed their resolution in December of last year.
The City of Holland is one of the local units of government that Disability Network/Lakeshore has been working closely with since the May 2010 Complete Streets Panel Event and the November 2010 Livable Communities Event to develop a Complete Streets Policy. Phil Meyer, Director of Community & Neighborhood Services, Jodi Syens, Director of Transportation Services, and Brian White, City Engineer were all very committed to the process including holding several study sessions in designing the resolution.
City of Holland was eager to pass the policy based on the fact that they already implement many of the concepts of Complete Streets within their planning processes. This policy only supports their current processes and ensures that all users are being considered when designing or reconstructing the City's transportation network.
"The City has been aggressive about examining complete streets issues in all of its street construction, reconstruction, sidewalk improvement, and bike facility efforts as a matter of normal course of doing business. These issues, often involving participation of neighborhood residents, businesses, and other property owners, are well-considered in the context of the specific conditions of a particular project, as well as in the context of the larger City-wide (and beyond) network" said Phil Meyer, Director of Community & Neighborhood Services.  "The most recent example of a positive process and end result was the reconstruction of 40th  Street. Also, this past summer, the City participated with the Lakeshore Disability Network in their three-part program looking at livability issues in the community, with a heavy focus on "complete streets" issues. The Network is a very strong advocate for the adoption of complete streets policies across the region, as are a number of other organizations."
The passage of this resolution moves the count up to 39 for Michigan approved complete streets resolutions or ordinances (that we are aware of). The City of Holland is the third for West Michigan, after the City of Allegan (12/10) and the City of Grand Rapids (3/11).
Congratulations to the City of Holland and West Michigan complete streets supporters!