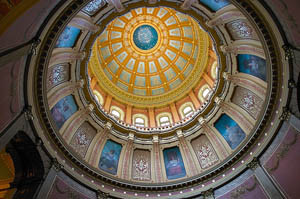 The House Transportation Committee will hold its second hearing on the Complete Streets package, House Bill 6151 and House Bill 6152 this Thursday, June 10th at 10:30 a.m. in the House Office Building Committee Room on the 5th Floor (124 North Capitol P.O. Box 30014 Lansing, MI 48909-7514). We had a very full room of supporters for the first hearing , and we would like to fill the room this time too. There will be cards that you can fill out to support the legislation; there probably won't be time for all to speak.
If you can't make the hearing, you can still support the legislation at www.michigancompletestreets.org. There is a letter that you can e-mail to members of the House Transportation committee. Of course it is always best to use your own thoughts of support, but the e-mail is a good starting point. It would also be beneficial for you to write your own legislator with your support.
Thanks as always for adding your voice to this important issue!